As I went deep into how to use DevOps with PlanetScale, I really wanted to demonstrate how PlanetScale can be used in CI environments so I got the idea to create and publish the first wave of official Actions that our customers could use.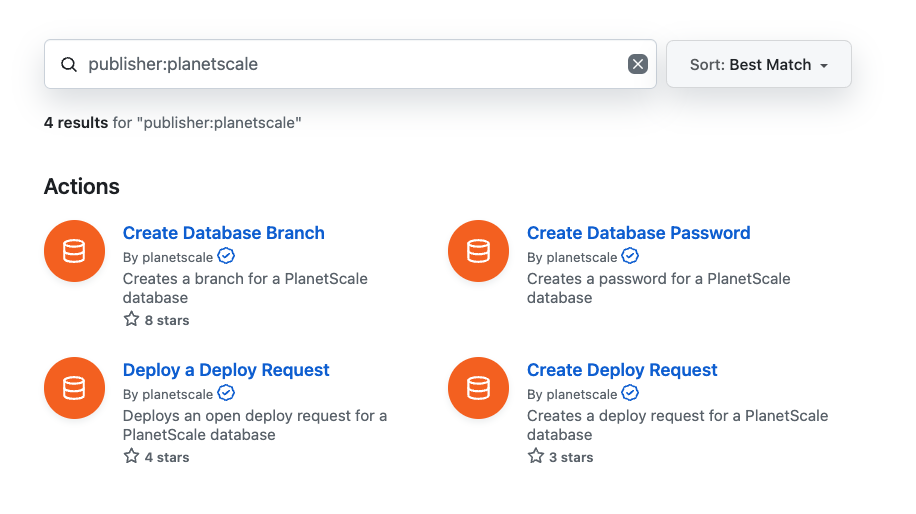 After researching how to create Actions that can be published to the marketplace, I opted to use Docker since already have the PlanetScale CLI published as a Docker image on Docker Hub. I used some previously created helper scripts built in Bash that have some helpful utilities and essentially merged the two together.
The dockerfile is built using the planetscale/pscale image as its base, and uses curl to pull in the pinned version of the helper scripts mentioned above.
# Container image that runs your code


FROM planetscale/pscale:v0.129.0

RUN apk --no-cache add bash jq curl

# Copies your code file from your action repository to the filesystem path `/` of the container
COPY entrypoint.sh /entrypoint.sh
RUN chmod +x entrypoint.sh

# Install the PlanetScale Actions helpers
COPY install-helpers.sh /install-helpers.sh
RUN chmod +x /install-helpers.sh
RUN /install-helpers.sh

# Code file to execute when the docker container starts up (`entrypoint.sh`)
ENTRYPOINT ["/entrypoint.sh"]
A service token and parameters are passed into the container for the Action step to perform whatever operation its intended to do. For instance, this will create a new branch of a PlanetScale database:
#!/bin/bash







create_branch

=

true


command

=

"pscale branch create 

$1

 

$2

 --org 

$3

"







if

 

[

 -n 

"

$4

"

 

]

;

then




  

command

=

"

$command

 --from 

$4

"




fi







if

 

[

 -n 

"

$5

"

 

]

;

then




  

command

=

"

$command

 --restore 

$5

"




fi







if

 

[

 -n 

"

$6

"

 

]

;

then




  

command

=

"

$command

 --region 

$6

"




fi







# Check if branch already exists




if

 

[

 

"true"

 

==

 

"

$8

"

 

]

;

then




  

output

=

$(

eval

 

"pscale branch show 

$1

 

$2

 --org 

$3

"

 

2

>

&1

)




  

exit_status

=

$?




  

if

 

[

 

$exit_status

 -ne 

0

 

]

;

 

then




    

create_branch

=

true


  

else




    

create_branch

=

false


  

fi




fi







if

 

$create_branch

;

 

then




  

eval

 

$command







  

ret

=

$?




  

if

 

[

 

$ret

 -ne 

0

 

]

;

 

then




    

exit

 

$ret




  

fi







  

if

 

[

 

"true"

 

==

 

"

$7

"

 

]

;

then




    

.

 /.pscale/cli-helper-scripts/wait-for-branch-readiness.sh


    wait_for_branch_readiness 

40

 

"

$1

"

 

"

$2

"

 

"

$3

"

 

5




  

fi




else




  

echo

 

"Branch 

$2

 already exists"




fi
Additional resources: